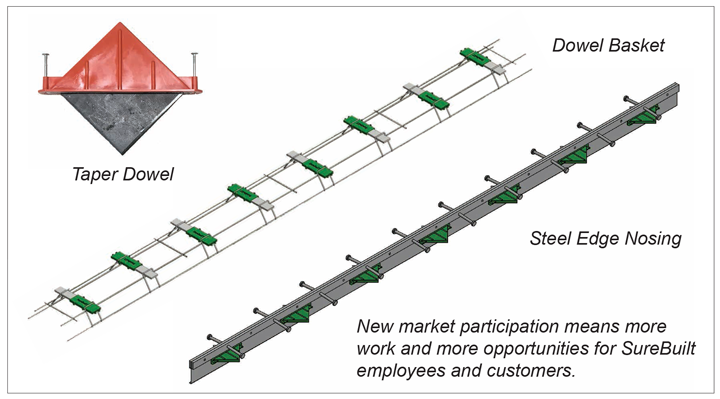 SureBuilt is penetrating a new sector of the concrete construction industry with the introduction of engineered joint stability systems for concrete floors. New dowel products from SureBuilt include the diamond-shaped Taper Dowel, Dowel Basket, and Steel Edge Nosing. High-traffic concrete floors and pavements require precise load transfer, smooth transition and joint protection. These requirements can be satisfied with these new joint stability systems.
The Taper Dowel is a diamond-shaped, engineered load transfer system for horizontal movement in concrete floor joints. The Dowel Basket is a wire and plate dowel assembly for efficient load transfer in concrete floor and pavement contraction joints. The Steel Edge Nosing is a free movement joint with a heavy duty steel edge to protect contraction joints in high traffic floors.
In industrial and commercial buildings, a critical design component is the long-term serviceability of a concrete floor slab. The rapid change in the logistics industry from larger, cushioned wheels to smaller, harder wheels on lift-trucks has greatly increased the problem of joint spalling in warehouse, retail, and manufacturing facilities. Spalled joints or cracks can significantly disrupt productivity, require expensive repair, and make facilities less desirable to potential new owners or tenants. A design that delivers proper joint stability and support is key to minimizing spalling and cracking in a concrete floor that is subject to wheeled traffic. Industry guidelines all recommend the use of load-transfer devices, such as dowels, in concrete floors with lift-truck traffic.
https://surebuilt-usa.com/wp-content/uploads/2019/06/New-SureBuilt-Dowel-Products.png
399
720
Rob Kozaczka
https://surebuilt-usa.com/wp-content/uploads/2019/07/SureBuilt-Concrete-Forms-Accessories-Logo-300x73.png
Rob Kozaczka
2019-06-05 08:12:25
2019-09-25 07:04:16
From the Ground Floor Up!