Learn more at the Tilt-Up Expo in Atlanta!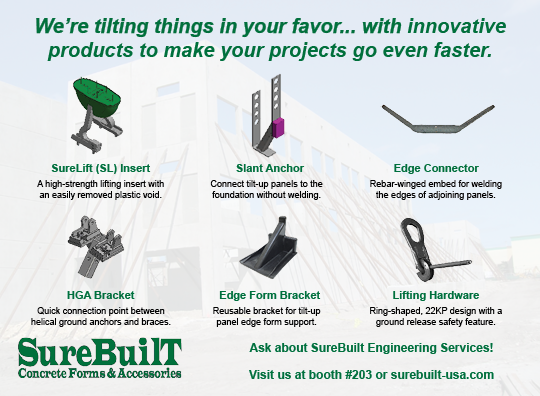 We plan on being in Atlanta for the TCA 2019 International Tilt-Up Convention and Expo in September. And we're featuring more innovative tilt-up products to make your projects go even faster.
Stop by the SureBuilt exhibit, Booth #203, to learn how we're tilting things in your favor. Here are just a few of the products you'll see:
SureLift (SL) Insert – An effective panel lifting insert that develops high pull-out strength. A disposable plastic void former identifies the cap location and keeps concrete out of the recess. Slide-on plastic feet provide height adjustment and eliminate surface corrosion.
Slant Anchor – A unique assembly that connects tilt-up panels to the foundation. The assembly includes a load-rated Slant Anchor, foam Void Former, high-strength Ductile Bar and prepackaged Flowable Grout… no welding or bolting required!.
Edge Connector – A rebar-winged embed positioned at the panel edge (for later welding) and tied into the panel reinforcing steel… the "flat" provides for an accessible and longer welding surface between adjoining panels!
Edge Form Bracket – The one-piece plastic design is molded with a triangular strut to support the panel edge during concrete placement… so stop cutting lumber for bracing  and start forming faster with this reusable bracket!
HGA Bracket – A quick connection point between helical ground anchors (HGA) and tilt-up braces. The Pipe Brace shoes bolt directly to the bracket and the sleeve attaches to the ground anchor… no need to disassemble Pipe Braces!
And be sure to ask about SureBuilt Engineering Services… we're ready to help with plans,  specifications and panel details on tilt-up projects throughout North America.
https://surebuilt-usa.com/wp-content/uploads/2018/08/surelift-insert.jpg
700
700
Rob Kozaczka
https://surebuilt-usa.com/wp-content/uploads/2021/04/SureBuilt-Concrete-Forms-Accessories.png
Rob Kozaczka
2019-07-17 11:15:13
2019-10-02 10:32:48
We're Tilting Things in Your Favor!