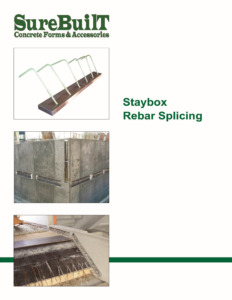 Try the Staybox Rebar Splicing Solution
Staybox provides a cost-effective and labor-saving solution for most concrete construction joints. There is no need to drill, alter or damage the form face during installation. The box provides the alignment and load transfer between placements.
The system consists of bent rebar inside a leave-in-place box, creating a "pull out" bar assembly. The assembly is used as a keyway and splice between concrete construction joints, including slab, deck, wall, beam and column intersections.
The metal box is formed in two pieces that slide together. The box is typically 1-1/2" deep; 2-1/2", 3-1/2", 6" or 8" wide; and 48" long. While those are standard sizes, the metal box can be fabricated to match other specifications or conditions.
The rebar is typically #3, #4 or #5 A706, with optional epoxy coating. The exposed rebar will be a straight, hook or stirrup type, depending on the application. The unseen portion of the rebar is bent to fit inside the formed metal box.
The two-piece metal box is designed so the back plate remains in the concrete, while the front plate can be removed for access to the bent rebar inside. The box and both ends are sealed to prevent concrete from seeping into the assembly.
The exposed Staybox rebar is tied to the main reinforcement and the metal box is fastened to the form face material. After concrete placement, the cover plate is removed and the prebent bars are straightened to provide a lap splice for subsequent pours.
Click here for the Staybox brochure, then call your SureBuilt representative for specs, pricing and availability.
https://surebuilt-usa.com/wp-content/uploads/2023/04/staybox-scaled.jpg
2560
1978
admin
https://surebuilt-usa.com/wp-content/uploads/2021/04/SureBuilt-Concrete-Forms-Accessories.png
admin
2023-04-24 07:11:08
2023-04-24 07:12:11
Thinking Inside the Box