Great Prices on SPAN-X Beams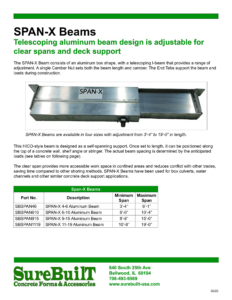 Telescoping Aluminum Beams!
This self-spanning support can be positioned along the top of a concrete wall, shelf angle or stringer. The clear span provides a more accessible work space underneath, reducing conflict between trades. SPAN-X Beams have been used for box culverts, shaft core roofs, water channels and other similar concrete deck support.

The SPAN-X Beam consists of an aluminum box shape with a telescoping I-beam that provides a sliding range of adjustment. A single Nut sets the length and camber. The End Tabs support the beam during construction.
Beams are available right now in four standard sizes and four great prices, FOB Bellwood, IL or Jasper, TN, but only while supplies last:
SPAN-X 4-6            3′-4″ to  6′-1″         $196.65/ea (Dlr net)
SPAN-X 6-10          6′-0″ to 10′-4″        $265.86/ea (Dlr net)
SPAN-X 9-15          9′-8″ to 15′-0″        $347.81/ea (Dlr net)
SPAN-X 11-19      10′-8″ to 19′-0″         $399.98/ea (Dlr net)
Click here for the SPAN-X data sheet, then contact your SureBuilt representative for pricing and availability.
https://surebuilt-usa.com/wp-content/uploads/2023/07/span-x-beams.png
3300
2550
admin
https://surebuilt-usa.com/wp-content/uploads/2021/04/SureBuilt-Concrete-Forms-Accessories.png
admin
2023-07-24 09:58:56
2023-07-24 09:58:56
Great Prices on SPAN-X Beams