SureBuilt Barn Find
Call Right Now for 25K Shoring!
25K shoring frames are used on all the biggest projects, especially bridges… and the pricing has never been better!
If you know of a bridge project, then you should be talking to us about 25K shoring right now. We have the frames, cross braces, screw jacks and base plates you need, including: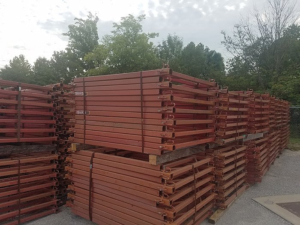 Frame Base 4×6 – 2,548 pcs
Frame Extension 4×5 – 1,568 pcs
Coupling Pin – 4,688 pcs
XBrace 4×5 – 3,406 pcs
XBrace 5×5 – 680 pcs
XBrace 6×5 – 785 pcs
XBrace 7×5 – 29 pcs
Adapter Pin – 3,018 pcs
Screw jack Base plate – 2,915 pcs
Screw jack U-Head 6×6 – 2,890 pcs
Insert for Screw jack – 2,720 pcs
Base plate 8×8 – 499 pcs
All of this used equipment has been inspected, certified and stacked ready-to-ship. This 25K shoring is available for a limited time on a "first come, first served" basis. Contact the Bellwood office for pricing and availability as soon as you spot a possible project.
https://surebuilt-usa.com/wp-content/uploads/2019/01/unnamed.jpg
525
700
Rob Kozaczka
https://surebuilt-usa.com/wp-content/uploads/2021/04/SureBuilt-Concrete-Forms-Accessories.png
Rob Kozaczka
2019-01-30 07:42:50
2019-09-26 10:29:20
Barn Find! 25K Shoring Frames!